By date
Kurt Weill biography
Lotte Lenya biography
By topic
Tags
#kurtweill #georgkaiser #silbersee #nazizeit #lottelenya #casparneher #erikaneher #mauriceabravanel #ottopasetti #joemabel #weillproject #berlin #weillbio
(Prior biographical posts on Weill: [1], [2], [3], [4], [5], [6], [7], [8], [9], [10], [11], [12]. Also, see this post on the Novembergruppe.)

Poster for the silent film The Cabinet of Dr. Caligari, 1920. This horror film about a mad authority figure would doubtless also have been a great subject for an opera or musical theater piece in early 1930s Germany, but instead we got the marvel of the Weill/Kaiser Der Silbersee.
(This image is now public domain in the United States.)
So it is 1932 in Germany. Weill's Die Bürgschaft, with a libretto by Caspar Neher 🔗 is a critical success but, as recounted in our previous blog post, the rising Nazis are willing and able to terrorize theaters that show works of which they disapprove, so there is no corresponding commercial success. The Great Depression is raging, most theaters are either closed or cautiously booking classics.
The critic and theater director Paul Bekker, who had just directed Die Bürgschaft in Wiesbaden, writes an open letter to Weill proposing a Volksoper, a "folk" or "people's" opera, and Weill embraces the idea of "operas which can be preformed by laymen… when theaters are too dumb and cowardly to perform my works." Several attempts at the time went nowhere, though he would eventually come back to the concept in the 1940s in the United States with his Down in the Valley 🔗. Instead, Weill turned back to his sometime collaborator Georg Kaiser 🔗 (see earlier blog post on their play Der Protagonist and another blog post that discusses their one-act opera buffa Der Zar läßt sich photographieren, "The Tsar Has his Photograph Taken"). Initially, the two planned to come up with a musical version of The Cabinet of Dr. Caligari 🔗. Like every other Weill/Kaiser project, it ended up going somewhere entirely unlike its original destination.
Weill at this point seems to have been carrying on a bit of wishful thinking. He and Lenya were drifting apart: he was carrying on a relationship with Caspar Neher's wife Erika (née Tornquist) and Lenya was working variously in the Soviet Union as well as Paris and Vienna, and soon in Vienna would take up with tenor Otto Pasetti (amazingly, no English-language Wikipedia article about Pasetti and only a brief one in German 🔗). That summer, Weill and Lenya would begin the process of an amicable divorce. The Nazis were rising to power, which would soon make it untenable for either Weill or Lenya to live or work in Germany or even, as it turns out, to get their assets out of the country. Nonetheless, with unwarranted optimism, the pair bought a house March 1932 in what was then known as the "artist's suburb" of Kleinmachnow, about half an hour from Berlin. And, despite the situation of German theater, Weill and Kaiser embarked on a beautiful and enigmatic work, Der Silbersee ("The Silver Lake"), subtitled Wintermärchen ("winter fairytale" or "winter's tale").
In the play, five unemployed men living in a cottage on the edge of town rob a grocery store to stave off starvation. Policeman Olim shoots their leader Severin (though not fatally) as they try to escape. Olim regrets this and when he soon wins a lottery he buys a mansion, gets Severin out of a police hospital, and takes him in. Severin has no idea that his benefactor is the same man who shot him, and given few things he has said about his desire for vengance, Olim would not dare to let him know. They hire two impoverished nobles as servants, Frau von Luber and Baron Laur. Frau von Luber's niece Fennimore is brought in, initially as an entertainer. She tells Severin the legend of the nearby Silver Lake that "can freeze over even in summer to save those in need."
Fennimore's performances for Olim and Severin range from light entertainment to the song "Caesars Tod" ("The Death of Caesar"), with a clear analogy to Hitler. There is a wide variety of music in the piece. The sixteen self-contained numbers range from tango, waltz, polka, and foxtrot to arias and a funeral march. The score requires twenty-four instruments—roughly half of them strings—plus a chorus. Of the onstage roles, only Fennimore and Severin require formally trained voices. The piece lasts about three hours and does not easily fit in any one genre. Most revivals have abridged it considerably but, remarkably, it was staged intact as the Weimar Republic collapsed.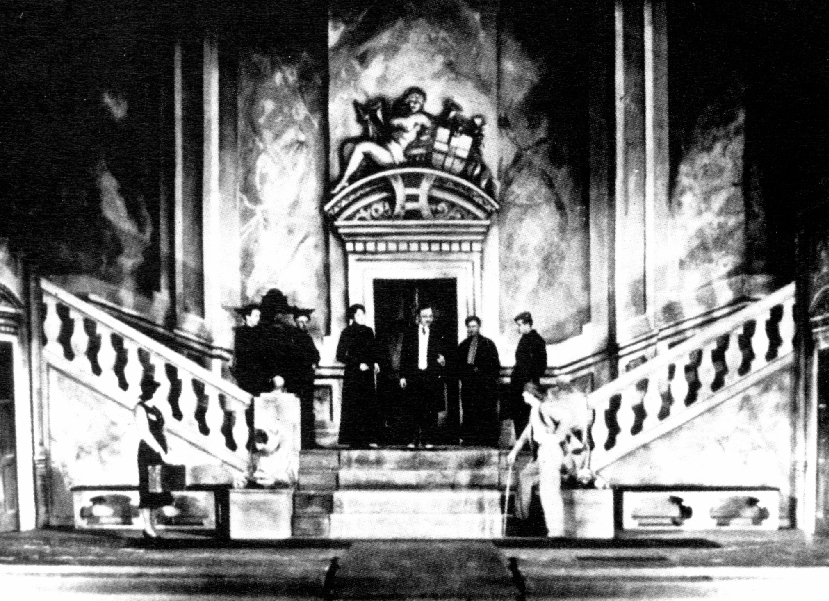 Olim's castle, from the Leipzig production of Silbersee. This grand set was built in the face of the almost certain knowledge that the play could have only a short run as the Nazis assumed power.
(Copyright status unknown, used on a fair use basis.)
Of course this fairytale cannot end happily, neither in life nor on stage. At most one can hope for a glimmer of redemption or hope, for something to go right amidst overall calamity. To paraphrase Chekhov's remark about a loaded gun, if you introduce a lake that can freeze over to save those in peril, you must have life-threatening peril in Act III. In the play, the two noble housekeepers turn out to be cuckoos in the nest and cheat Olim out of his mansion. Severin and Olim, defeated, go to drown themselves in the lake, but it has indeed frozen over despite warm spring weather. Led by Fennimore's voice, they step onto the ice and disappear in the distance. "Those who must go on will be carried by the silver lake."
In the real world of Germany in 1932, amidst the collapsing Weimar Republic, there was inevitably difficulty arranging a theater. Silbersee was completed 1 December 1932. Two days later, Schleicher's cabinet took over the reins of government, but everyone understood this was just a stopgap as Hindenberg and Hitler negotiated the terms on which the latter would be handed the reins of power. Weill, like many, thought Hitler would fail quickly, that the institutions of the Republic—especially the judiciary and the military—would stand up to him, and that Nazi rule would be a flash in the pan. Weill's publisher Universal Edition somehow convinced theaters in Leipzig, Magdeburg, and Erfurt to do a joint premiere, and Weill turned his attention to his next project, working with Caspar Neher and Hans Fallata on a Europa-Film adaptation of Fallata's novel Kleiner Mann, was nun? ("Little Man, What Now?"); Bertholdt Viertel was to direct. The film would eventually be made that summer, but without Weill or Viertel.
The Silbersee premieres were scheduled for 18 February 1933. On 30 January, Hitler effectively took power. Still, the Nazis did not move immediately to control the provincial theaters, so the planned premieres took place. On 18 February, Kaiser & Weill were in Leipzig, as were, in Hans Roche's words, "Everyone who counted in the German theater." The all "met together for the last time. And everyone knew this." Ernst Busch's recordings of "Lied vom Schlaraffenland" ("Song of the Land of Milk and Honey") and "Der Bäcker bäckt ums Morgenrot" ("The Baker Bakes for the Dawn"), with orchestral accompaniment under the baton of Maurice Abravanel, were rushed into release, but a further recording by Lotte Lenya and Gustav Brecher never came out; the masters are lost, probably deliberately destroyed by the Nazis. Universal Edition published a piano reduction in February 1933, plus a book of six pieces from the play.
The Reichstag in flames, and with it the last hopes for the survival of the Weimar Republic.
(This image is now public domain in the United States as seized enemy property. It remains copyrighted in Germany, but the Bundesarchiv, the German Federal Archive has licensed it: Bundesarchiv, Bild 183-R99859 / Unknown photographer /
CC-BY-SA 3.0 🔗
)
The play went over well in all three cities, but many of the favorable reviews had to be published abroad. The predictable Nazi attacks in the press were accompanied by overt threats, this time with government power to back them. The theaters successively bowed to the Nazi pressure, first Magdeburg, then Erfurt. The 4 March performance in Leipzig, five days after the Reichstag Fire 🔗 (27 February 1933), was to be the last public performance of Weill's music in Germany until the Nazis were finally defeated by the Allies in 1945, though of course many recordings of his music survived and were listened to surreptitiously.
Weill was fortunate not to be swept up immediately after the Reichstag Fire. He and Lenya were together in Munich at the time of the March 5 elections that confirmed Hitler's hold on power. She headed for Vienna, he back to Berlin, but not to their house in Kleinmachnow. Instead, he headed first for a hotel in Westend, then for the Nehers' home. On 15 March he met with Jean Renoir 🔗 to discuss a possible project in France. On 21 March Hindenburg officially handed over power to Hitler. Two days later, on the day that the Enabling Act effectively made Germany a dictatorship, Weill and the Nehers drove via Luxembourg to Paris. The Nehers eventually went back to Berlin; Weill moved into the Hotel Splendide. He would never set foot in Germany again, choosing not to visit even when he traveled to Europe after the War.
[This essay draws heavily on Jürgen Schebera's meticulously researched Kurt Weill: an illustrated life, (Yale, 1995, translated from the original German by Caroline Murphy).]
---
Next blog post:
Paris (1): an expedient harbor
Next Weill biography blog post:
Paris (1): an expedient harbor