Joe Mabel is a guitarist, singer, and songwriter, as well as a photographer, visual artist, and a major contributor to the English-language Wikipedia. He retired in December 2020 from a career in software, and promptly founded the Weill Project.
Joe grew up in a rather musical household in Freeport, New York, and has known some of Weill's music since early childhood in the 1950s. He writes, "Kurt Weill's music from Threepenny Opera was in heavy rotation in my early childhood, along with Pete Seeger and Captain Kangaroo. When I heard the translation that Joseph Papp commissioned in 1976, I discovered how toned-down the 1950s Broadway stage version had been. The Doors, Lou Reed, Marianne Faithfull and others of the rock generation who took on this music made me realize I could do the same someday."
He learned to read music and got some basic grounding in music theory from age 7-9, and "still has a pretty good 9-year-old's grasp of music theory." Around the same time took up the trumpet/cornet. By his own account, he was never much of a trumpeter, "maybe second cornet first seat at best" in junior high. Some lung problems around age 13 meant the trumpet was kaput.
Shortly before his tenth birthday, he took up guitar, which his father also played, deliberately starting out when his father was away on a long business trip—ten weeks in Europe and Asia—to avoid the inevitable excess of judgment and advice. During high school, most of his public playing was during the hangout time after Student Mobilization Committee meetings (Vietnam War opposition), usually playing with the late Ian Cathcart, who later became a pillar of the music scene centered on Freeport's waterfront bars.
Joe played in college (Wesleyan University in Connecticut) in a loose group fronted by the also late Ralph B. Wilson III, a genius who never found his place in life and died at 52 dispatching cabs. Ralph's group played some originals (including Joe's), mostly covers, and according to Joe "was very driven by who we liked as lyricists." That ranged from Johnny Cash to Lou Reed to early Janis Ian. Around 1977, the previously acoustic group got hold of a bunch of cheap electric instruments and played a "second set" that started with very long version of "Sweet Jane". "All but ten people in the audience of a hundred or so walked out on that," says Joe. "The remaining ten thought it was the best thing they'd ever heard us play."
He spent two summers in the mid-'70s in the rather loose house band at the Old Swan in Notting Hill Gate, which "sounded like the Pogues seven years before the fact." Time Out wouldn't list house bands, so on different nights the band was billed variously as Basil's Balls Up Band, Fergus Feelie's Jig Band, Bruce and the Wombats, or Matilda's Bush Band, depending who was on lead vocals. Time Out never caught on. As of 2021, Basil is still playing, though not London-based 🔗; Fergus is also apparently still out there, playing on Irish music sessions.

Self-portrait, December 2006 (Credit: Joe Mabel. License: CC-BY-SA 4.0 🔗)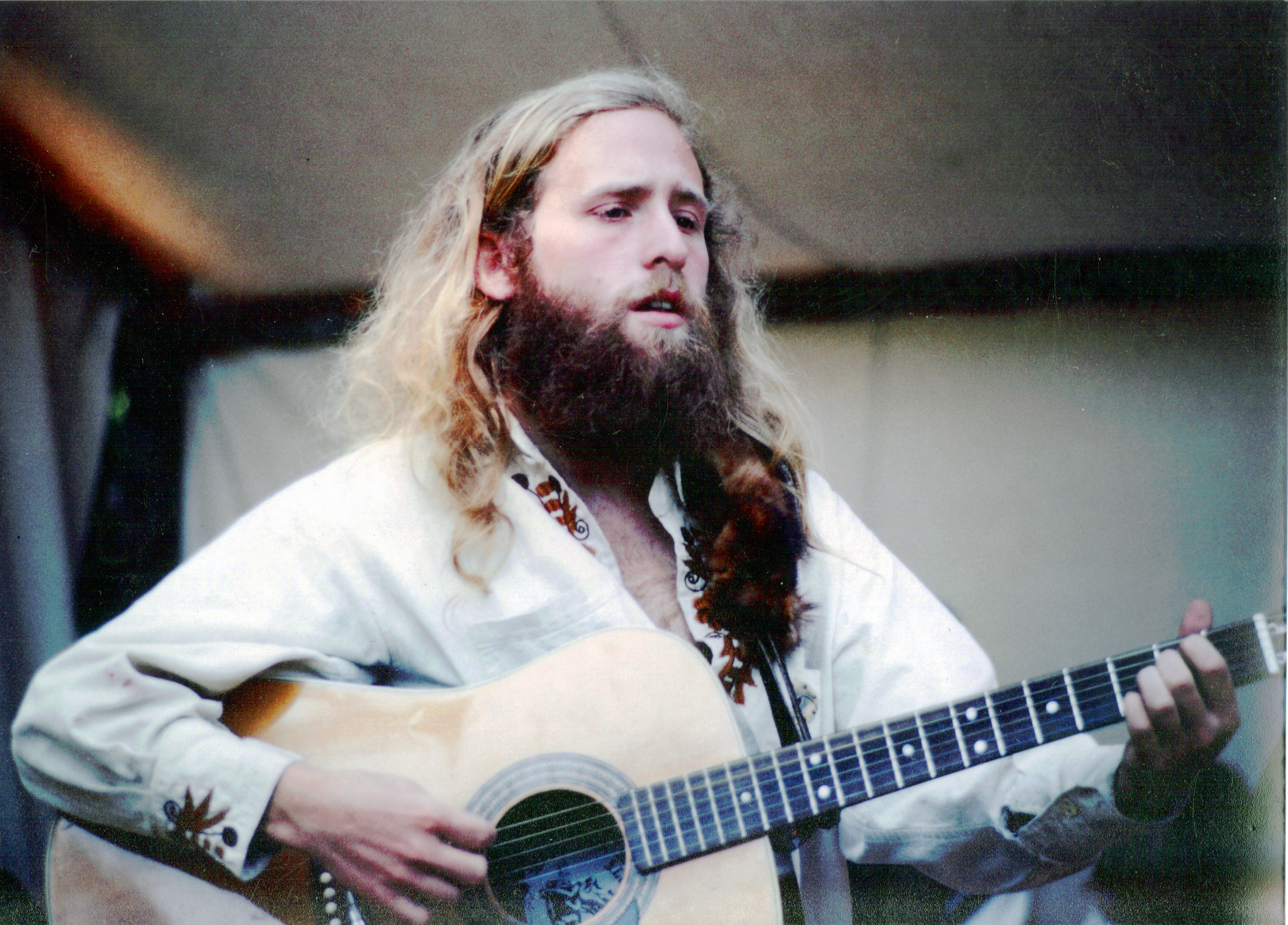 Joe Mabel performing at Camlann Medieval Faire, c. 1985 (photographer unknown)


After moving to Seattle in 1977, Joe kept writing songs and playing at open mikes and jam sessions, and also hitchhiked around the country playing for drinks & tips, a place to stay the night, etc. His main organized performing at this time was with the Minstrels' Guild of the local Society for Creative Anachronism, including performing in the first few seasons of the Camlann Medieval Faire in Carnation, Washington. He also pulled off a surprisingly successful rap performance circa 1987 in front of about 500 people at Give Peace A Dance at Seattle Center ("Bye bye, SDI. We don't want 'the lie in the sky'"). However, he was increasingly focused on other things, including grad school, a career in software, and left-edge-of-the-Democratic-Party politics. After the latter culminated in becoming one of the spokespeople for a six-month occupation of Seattle's Gas Works Park in 1990 (Gulf War opposition), he rarely played even open mikes, though he had his periods of focusing pretty seriously on the guitar, and kept developing as a player.
In November 2020, a miserable encounter with Covid-19 hastened Joe's retirement, cutting his software career a few months shorter than originally planned. He conceived the Weill Project while recovering. By December 13, he had recruited Juliana Brandon as a collaborator, and the Weill Project was born. "I grew up with this music, and it's music that I love. It's really exciting to work out how the hell I can play some of this on a guitar, especially the more Expressionist pieces like 'Die Muschel von Margate', but I couldn't be more motivated. I'm coming up with some really original, and really workable, arrangements, and in Juliana I have my number one choice of singers in Seattle to work with on this material."
External links