This post has been updated December 15, 2021.
The performing side of the Weill project consists of Juliana Brandon (soprano) and me, Joe Mabel (guitar/vocal). Back in June, we'd uploaded a very rough recording of the Kurt Weill/Howard Dietz song "Schickelgruber" as our first rough-cut video. We didn't have our video recording worked out at all well and, really, we didn't have the song worked out. The June recording served its purpose at the time, but at this point it's not at all representative of where we are, and we've taken it down from YouTube. Instead, we've re-recorded the song more competently and posted that to YouTube instead. The vocal interpretation is very much Juliana's (as are the PIPES) and the guitar arrangement mine; we've added a short original intro.
Like several other songs we'll be doing, "Schickelgruber," (1942, lyrics by Howard Dietz, music of course by Kurt Weill) is representative of the dissonant pop sound that Weill pioneered fifteen years earlier in Germany. When arranging and performing those songs you always have to decide, "How dissonant? How poppy?" And on a darkly comic song like this, when do you go for the laughs and when do you twist the knife? We're pretty happy with the balance we've found. The song still sounds pretty fresh nearly 80 years after it was written and over 75 years after the eponymous bastard killed himself in the bunker.
---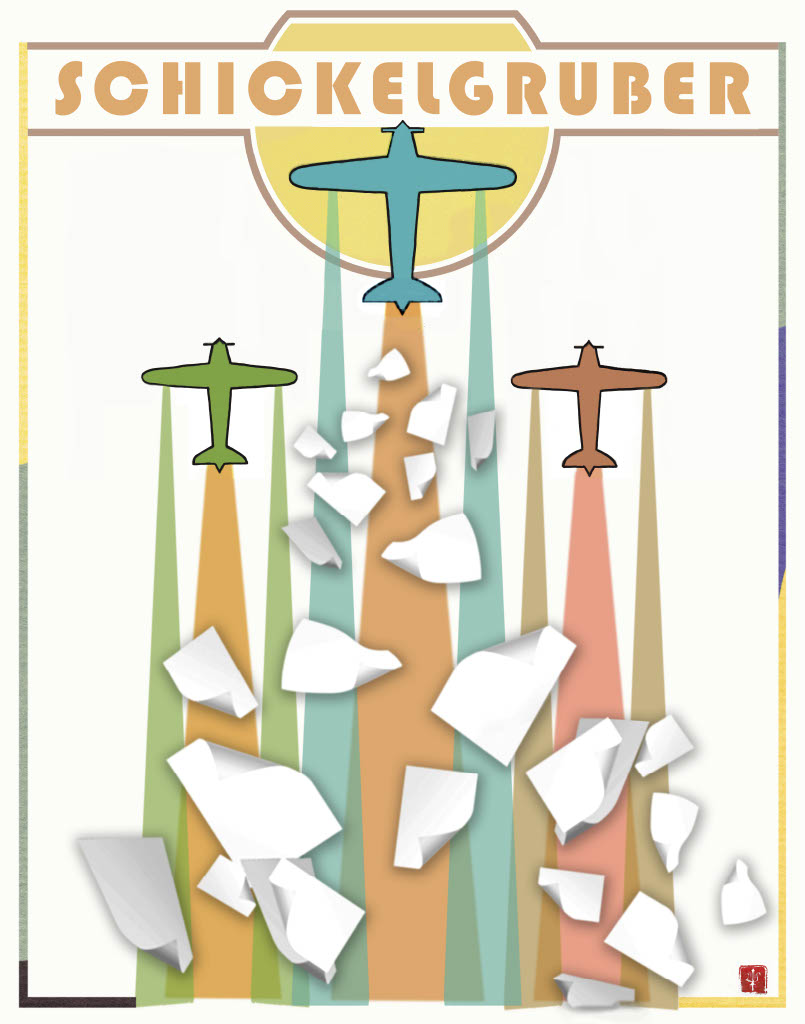 Weill Project collaborator
Yvette Endrijautzki's
2021 placard for the song "Schickelgruber" envisions an aerial literature drop of sheet music.
Copyright Yvette Endrijautzki, all rights reserved.
During World War II, playwright Moss Hart put together a series of lunchtime propaganda shows for workers in defense plants in the New York area. Many leading lights of the entertainment world did their part to write material for these; Weill wrote at least eight tunes fo Hart, with various collaborators. After a number of performances for the factory workers, most of these songs sat several decades in notebooks, unrecorded and generally forgotten. Lotte Lenya inherited the notebooks but never got around to doing much with them. Toward the end of her life she finally copyrighted the material and passed the notebooks themselves to Teresa Stratas, then a rising young soprano. Stratas worked with Lys Symonette to put out The Unknown Kurt Weill, a 1981 Nonesuch album (and a 1982 sheet music book) of fourteen Weill songs, most of them songs that only a handful of people had ever heard. One of these songs was "Schickelgruber," written in 1942 with lyricist Howard Dietz for Hart's lunchtime follies. The song is (more or less) from the point of view of Hitler's mother, wishing she had never given birth to the bastard.
Howard Dietz is not exactly a household word today. I'd venture that more people have heard of his Greenwich Village town house on Brevoort Row at 18 West 11th Street than have heard of him. It was once the home of Charles E. Merrill, co-founder of Merrill Lynch, but that's not why it became famous. Dietz threw enormous "all the furniture is in the garage (well, actually in a rented moving van)" parties there, but that's not why it became famous. It became famous for its demise. Seven years after Dietz sold it in 1963 to the Wilkerson family, their daughter Cathy invited her friends from the Weather Underground 🔗 to use the place when her father and stepmother were out of town. They turned the basement into a bomb factory. They were not very good at it. Two dead bomb-makers, two injured young fugitives (Cathy Wilkerson and her more famous friend Kathy Boudin 🔗), and a smoking heap of wreckage.
You might know one or another of the songs Dietz co-wrote with his main collaborator, Arthur Schwartz. Here's Sarah Vaughn singing "Dancing in the Dark" from their 1931 revue The Band Wagon 🔗; I personally have more affection for the lighter side of their work: here's Danny Kaye singing "Triplets," 🔗 from the same revue. Happily, despite its serious subject, "Schickelgruber" is in the latter vein. Dietz was as much a publicist as a songwriter: the same year that he wrote this song, Dietz became MGM's Vice President in Charge of Publicity, a position he held for the rest of his active career.
When Juliana and I decided to work together on Weill material, we knew we wanted to get at least one World War II propaganda song into the mix. We seriously considered, "What Was Sent to the Soldier's Wife", which I believe was Weill's very last collaboration with Bertolt Brecht, but besides Lenya's own version 🔗 used for propaganda broadcasts beamed into Germany during the War and Stratas's perhaps definitive version 🔗 (also in the original German), it's been done well in translation by Marianne Faithfull 🔗 (my personal favorite), PJ Harvey 🔗, and a host of others, and we didn't really see anything new to bring to it. (We might, someday. Never say never.) "Schickelgruber," on the other hand? Stratas, of course 🔗, but other than that just Anne Sofie von Otter doing a version which could be seen as a lesson in not trusting the lyric, 🔗 plus a few student recitals and the like on YouTube. And as far as we know, we are the first to try working out how to perform this song with a guitar accompaniment rather than a piano.
For anyone who may not know, Hitler's father was born Alois Schicklgruber and his name only changed to Hitler after his mother (Adolf's paternal grandmother) married a man of that name. Somehow I suspect that if Adolf's father had passed on the name Schicklgruber, Adolf would have had a hard time becoming Der Führer. Maybe he'd have ended up a Fuhrherr (chauffeur), like one of Mack the Knife's victims, Alfons Glite? Anyway, the song assumes that a 1942 audience knew full well how close Hitler came to inheriting this unpromising name, and instead wonders about his first name, whether "had he been christened 'Abie'" he "maybe never would have played the monster's part." (At the time Abie, like Sammy or Irving was a cliche for a Jewish-American name: think of Abie's Irish Rose 🔗 or Abie the Agent 🔗.)
---
Next blog post:
Brecht (2), Threepenny Opera