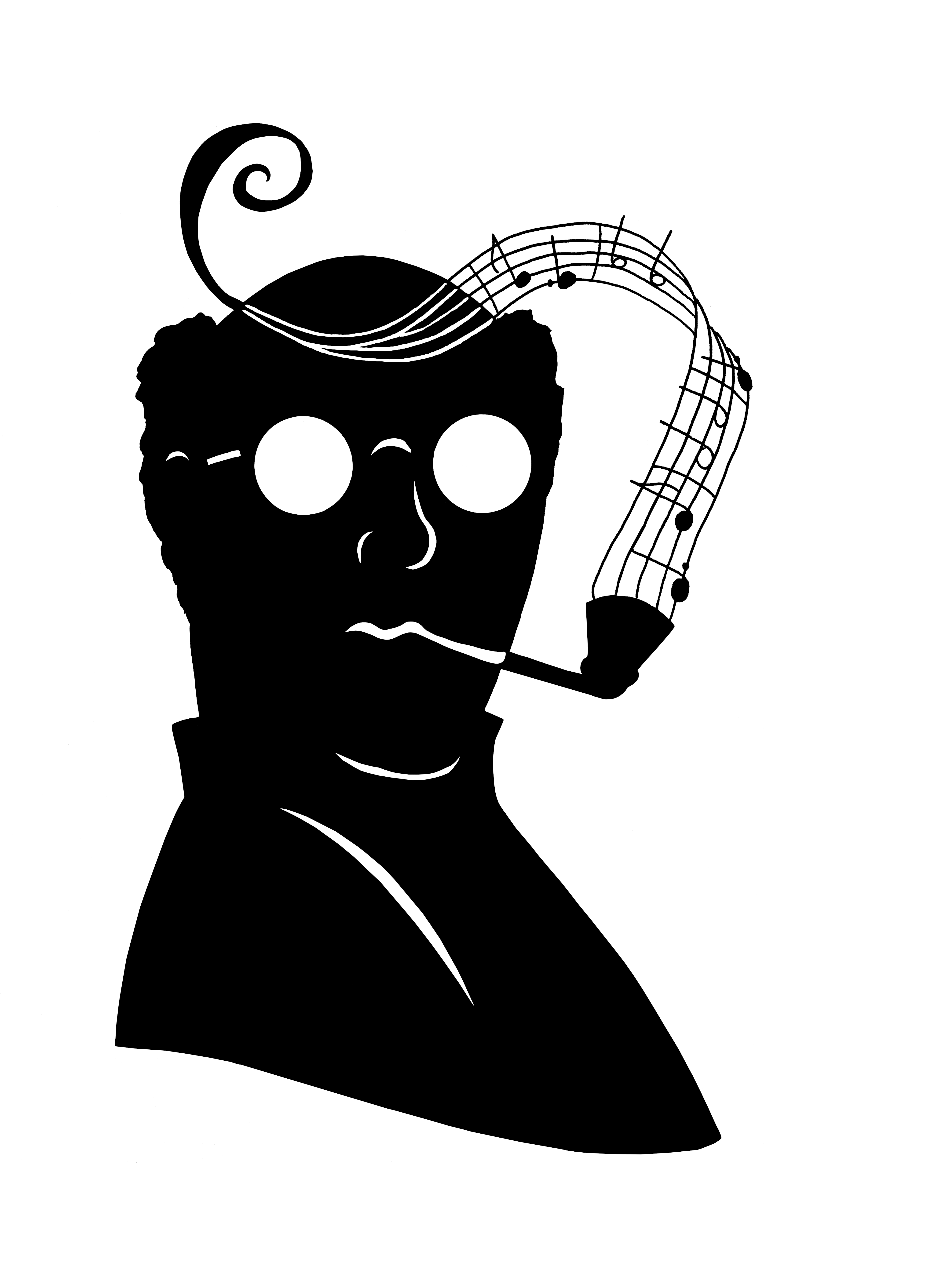 As Kurt Weill approached his twenty-third birthday in early 1923, he had already experienced and accomplished more than most people do in a lifetime. The son of a progressive Orthodox Jewish cantor in Dessau, he was already an accomplished enough musician in his own right at the age of ten to gain the attention of the local duke, which led to an informal apprenticeship to theater orchestra conductor Albert Bing, and to his becoming accompanist of choice for many local classical singers while still in his mid-teens. At fifteen he wrote Ofrahs Lieder. In his school years he was enough of a Wagnerite to memorize a piano arrangement of the "Liebestod" from Tristan und Isolde and enough of an Imperial German patriot during World War I to write military choruses and a lost one-act patriotic opera. Soon he was to become something very different.
He studied in Berlin under Engelbert Humperdinck (composer of Hansel and Gretel); took a class from the neo-Kantian philosopher Ernst Cassirer; witnessed the Sparticist uprising; directed the choir at a synagogue; wrote a choral fantasy based on the Biblical "Song of Songs"; and to support his family when his father was out of work, he spent six months as the remarkably young conductor of a theater orchestra in Lüdenscheid. Returning to Berlin, he wrote a modernist sonata for cello and piano that impressed critic Oskar Bie, and soon was one of five promising young composers accepted into Ferruccio Busoni's 🔗 master class. For a year or so he supported himself by playing for tips in a Bierkeller. Toward the end of 1922 he reached the level to take on students of his own, among them Nikos Skalkottas 🔗, Claudio Arrau 🔗, and Maurice Abravanel 🔗.
He wasn't a child prodigy like Mozart or Mendelsohn, but he was pretty close.
(Want more detail? Here are my prior posts on Weill's youth and student years: [1], [2], [3].)
El Lissitzky: "Beat the Whites with the Red Wedge" (1920). Politicized abstract art, in the Russian suprematist / constructivist school.
Actually, I've gotten a little ahead of myself, because plenty else happened for Weill in 1922. The Novembergruppe, Weimar Germany's leading association of left-leaning artists decided to expand to include musicians. Weill joined. I guess the Novembergruppe is a subject for another time, but I soooo want to digress. For now I'll just name-drop George Antheil, Otto Dix, Hanns Eisler, Lyonel Feininger, George Grosz, Hannah Höch, Wassily Kandinsky, El Lissitzky, Mies van der Rohe, and Rudolf Schlichter.
Most of Weill's music from 1922 is now lost (anything that wasn't widely published, carried to America or Palestine, or uncommonly well hidden was lost to Nazi bonfires). We do have his piano reduction of Busoni's Divertimento for Flute and Piano (Op. 52). More important, though, is the ballet pantomime Die Zaubernacht, a piece for children performed three times during the Advent season in the Theater am Kurfürstendamm. It was Weill's first piece for theater. Already at that time he observed, characteristically, that "…the stage has its own musical form, which develops organically out of the plot… important events can be expressed only through the simplest, least conspicuous means." In the audience was playwright Georg Kaiser, who would soon figure prominently in Weill's life. Weill later rearranged Die Zaubernacht as an orchestral suite, presented 14 June 1923 in Dessau at the former Hoftheater where Weill had apprenticed, de-aristocratized at the foundation of the Weimar Republic as the Friedrich-Theater, and in late 1924 it was performed in New York as Magic Night, the first Weill piece to be performed in the United States.
Part of Weill's Divertimento for Small Orchestra and Male Chorus was performed in a 7 Dec 1922 concert of short works by the five composers in Busoni's master class. In contrast to an initially little-noticed children's pantomime performed in the daytime, this concert was performed at the Berliner Singakademie by the Berlin Philharmonic Orchestra and the chorus of the Kaiser-Wilhelm-Gedächtniskirche; the Berlin Philharmonic would go on to perform Weill's Sinfonia Sacra: Fantasia, Passacaglia und Hymnus für Orchester in March 1923 (the month he turned 23 years old) and the entire Divertimento on 10 April 1923.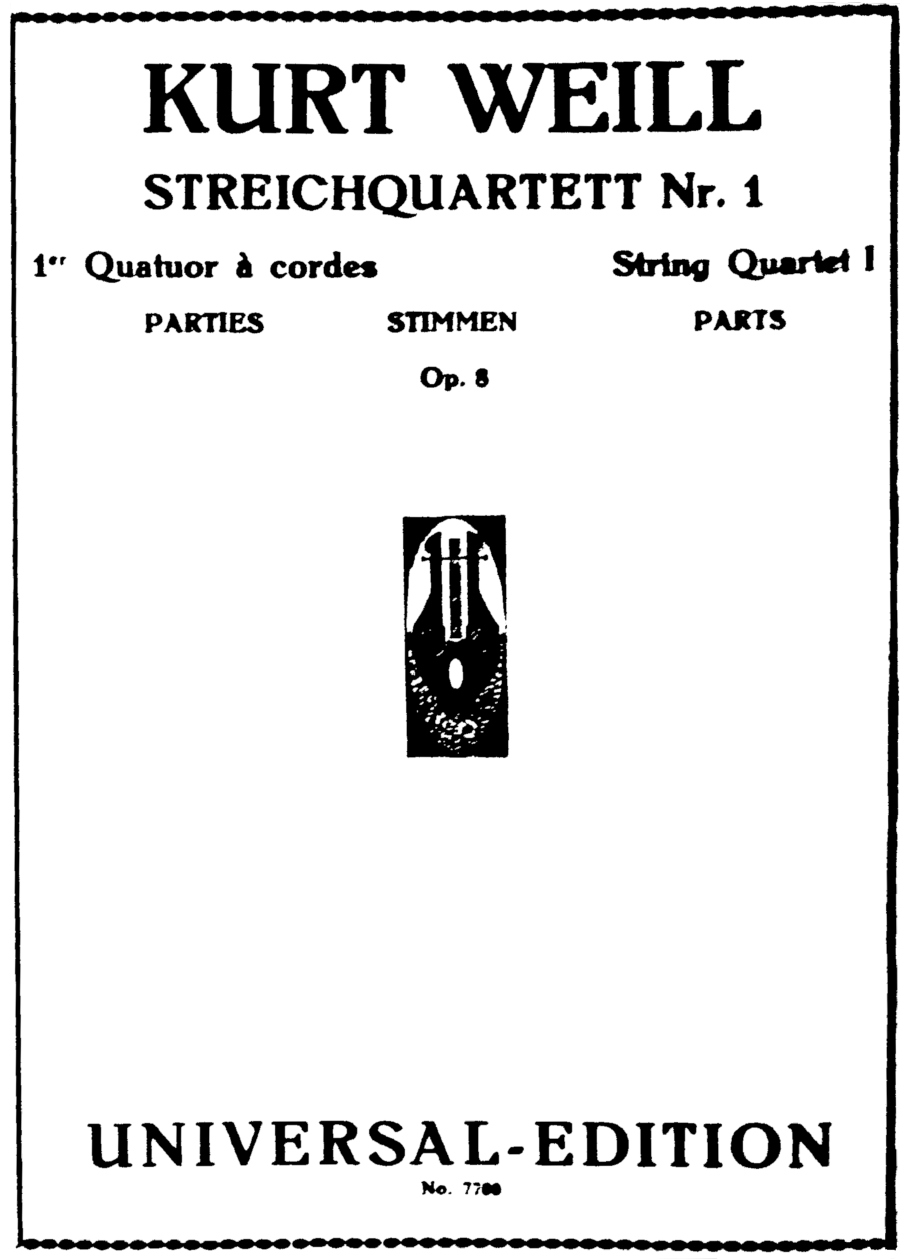 Cover page of Weill's first published original work, his String Quartet, No. 1, Universal Edition, 1924
1923 was not a good time for Germany (the hyperinflation 🔗 and all that), but it was pretty good for Weill personally. His String Quartet, Op. 9 premiered in Frankfurt 21 June 1923, performed by the Hindemith-Amar Quartet on a stellar bill including Stravinsky's L'Histoire du Soldat. Weill's quartet was a little dwarfed by Stravinsky, and according to Weill the Hindemith-Amar Quartet over-emphasized the borrowed rhythm of a foxtrot in one part of the piece; Hindemith at this point in his life liked to use "jazz" elements for shock effect, which was never how Weill used them. The piece would later get much more attention when it featured in a Berlin Novembergruppe show 22 Jan 1924. Weill's rhythmically complex Frauentanz, Op. 10, a setting of several medieval Minnesang 🔗 texts, circulated in manuscript and impressed a lot of people, though it would not premiere until February 1924. And in November, Weill and other Busoni pupils attended a performance of Busoni's Arlecchino at the Semperoper in Dresden. Busoni had recommended Weill to Semperoper conductor/manager Fritz Busch. They talked. Busch would prove to be a very important link to the next stage (so to speak) in Weill's career: in 1924, Busch would introduce Weill to Georg Kaiser with the idea of producing a ballet with lyrics for a Dresden production.
Weill's final project for Busoni was one of the last of his pieces before his emigration to be rooted in a Jewish text: Recordare: Klage lieder Jeremaiae V. Kapitel (Recordare: Lamentations of Jeremiah, Chapter 5), which Jürgen Schebera describes as "a large a capella choral cycle for four-part mixed chorus and two-part boys choir based on Old Testament texts." Considered brilliant but unperformable at the time, it finally premiered in 1971 at the Holland Festival. Weill formally finished his studies in December 1923, receiving a diploma from Preußische Akademie der Kunste. By this time Busoni was in ill health and had less than a year to live, but he found the time and energy to arrange the third song of Weill's Frauentanz for voice and piano and to recommended Weill to Dr. Emil Hertzka at the music publisher Universal Edition in Vienna. In April 1924, three month's before Busoni's death, Weill signed a 10-year contract with Universal. Universal probably thought they were signing a brilliant if somewhat directionless young classical composer. They had no idea that in four years they would have a hit-maker on their hands.
[This essay draws on miscellaneous sources, most notably Jürgen Schebera's meticulously researched Kurt Weill: an illustrated life, (Yale, 1995, translated from the original German by Caroline Murphy) and Stephen Hinton's Weill's Musical Theater: Stages of Reform (University of California, 2012). I also consulted Wikipedia to make sure I had my names right on who was in the Novembergruppe.]
---
Next blog post:
Novembergruppe
Next Weill biography blog post:
Der Protagonist