As a vocalist and puppeteer
The daughter of an actor and a poet, Juliana Brandon is an artist of many disciplines. Determined to become a children's book illustrator as a child, she discovered that she could sing opera at age 14 and changed focus toward the musical arts. Nonetheless, she followed the original dream of becoming a visual artist and obtained a BA in Art History at The University of Washington in 2000. In 2002 she took music and voice lessons at Shoreline Community College, culminating in a study abroad program with Austrian American Mozart Academy in 2004.
That same year she poured all her energy into her new operatic clown persona, growing a rabid and very faithful fan base for her surrealist opera cabaret troupe called Operadisiac. Brandon's experiences directing Operadisiac grew into a shadow puppet opera company called Paper Puppet Opera in 2015, which survived Covid-time as a solo project where Brandon creates the puppets and sets, then manipulates them while singing at the same time. Paper Puppet Opera is perhaps best known for their emotionally stirring rendition of Franz Schubert's Winterreise (four puppeteers including Juliana, plus piano and baritone) as well as for comedic presentations of forgotten classical operas.
As a soprano Brandon has been a frequent soloist with Seattle Bach Choir as well as making guest appearances with various projects around the Seattle area as "the human theremin," and even a trip to Germany with the Frank Zappa tribute band Z.E.R.O. to perform at Zappanale in 2016. Brandon has been a featured vocalist on all of Z.E.R.O.'s albums to date.
As an author
Brandon is also a writer of poetry and prose. She has two self-published books: 30 Love Letters (2015), a collection of love poems; and Winter From Above (2017), a strange book of theoretical encounters with Schubert's ghost meant to accompany the puppet rendition of Winterreise. Brandon is currently working on an expanded version of this novel which may grow into a book series.
As a visual artist
Brandon was one of the artists chosen to paint an astronaut statue for The Museum of Flight's Astronauts on the Town fundraiser in 2015. Her contribution was entitled Basstronaut which also led to her creating a body of drawings depicting fish in space. Around this time Brandon began experimenting with her signature technique of using pastel medium to draw on decorative papers and doilies, and after a long hiatus she started drawing again.
Birds have been one of Brandon's favorite subjects to draw for the past few years, and it is her hope that she can use her talent to raise money for brain cancer research as well as for myriad other causes that need funding and attention in today's world.
Juliana and the Weill Project
Juliana writes, "I feel honored that Joe Mabel chose me as his first pick singer for the Weill Project, but I'm also kind of surprised. I primarily specialize in 18th century music, so the repertoire of Kurt Weill has been mostly new to me. While I have made something of a reputation singing rock and pop music in operatic style, I see this as being purely for comedic effect. One of my biggest pet peeves is opera singers attempting to sing pop songs in popular style because it often comes across as stilted and pretentious. My goal has always been to do this backwards. Where some opera singers take out their vibrato, lower their voice, and labor over calculating how something might swing, I straighten the rhythm out, sing up an octave, and add excessive baroque ornamentation. The thing is, I never do this with a straight face. This will surely be a challenge for me with some of Kurt Weill's works. Can I sing his poppier pieces, like 'Pirate Jenny' or 'I'm a Stranger Here Myself,' seriously? We shall see!"
"That being said, I am loving Weill's quirky melodies. At his hand blues style half steps feel like classical Viennese appoggiaturas, evoking shades of Schubert and Lehár. Weill brings a sense of romanticism, musical sarcasm, and a helluva sense of humor to his theatrical music, all of which I find very appealing. There are many different ways to approach Weill's music, and now it is up to me to find my very own."
Joe cannot resist adding, "Check out Juliana with ZEROensemble singing Frank Zappa's 'Idiot Bastard Son' 🔗. If you didn't know otherwise, you'd presume Zappa wrote it for an operatic soprano and his version was the weird cover. Then add to that the (metaphorical and literal) vision and lyricism that she brings to Schubert 🔗, and spice heavily with the playfulness and humor 🔗 that so many of Weill's songs demand. And as for 'I'm a Stranger Here Myself', the bridge pretty much demands operatic 'pipes' (and a wicked sense of humor) if you are going to get it right. Juliana will fit it to a 'T'."
External links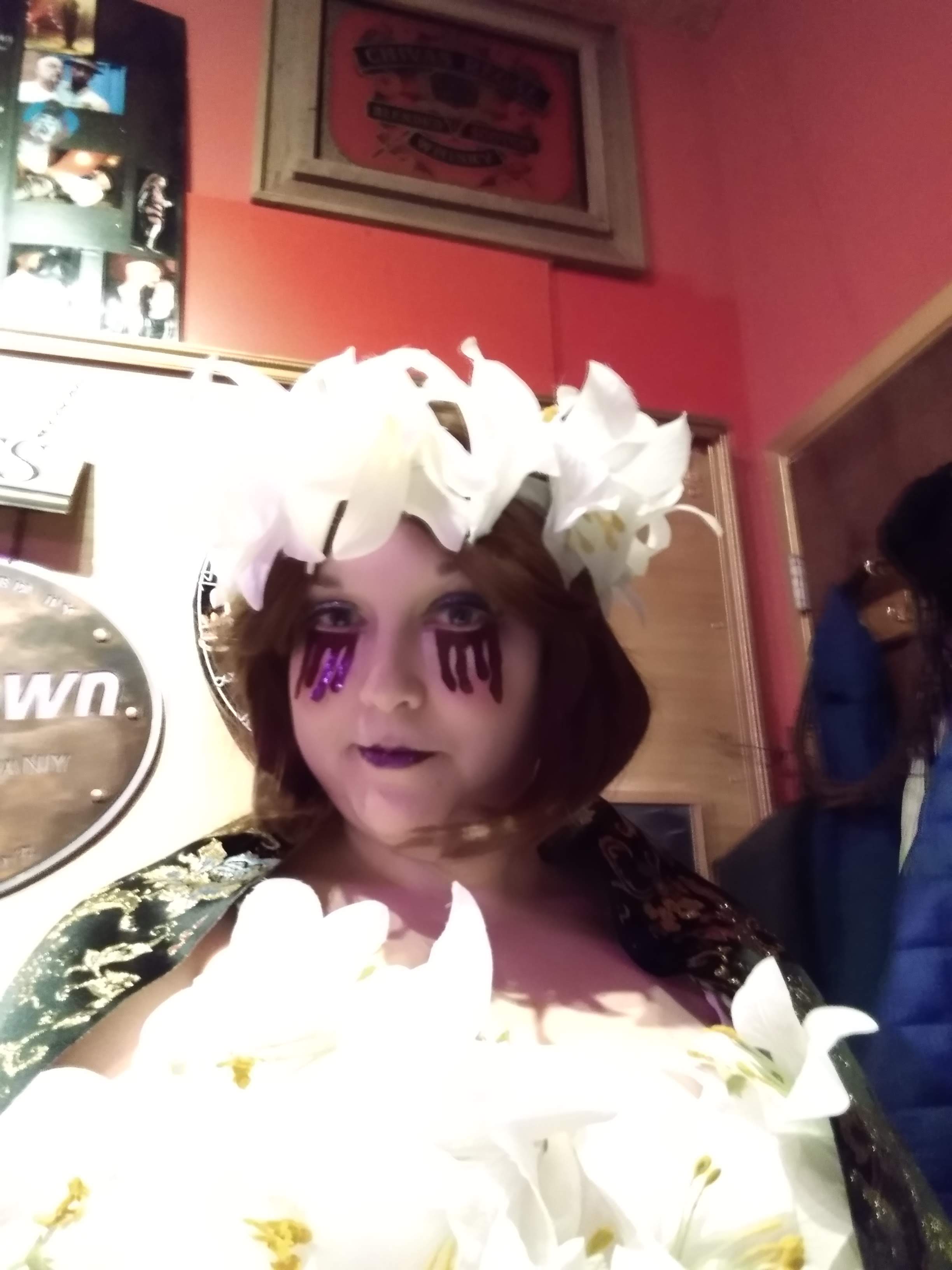 Self-portrait as a Lily, March 6, 2020. This was taken immediately after what turned out to be Juliana's last performance before the Covid-19 pandemic lockdown. (Credit: Juliana Brandon, All Rights Reserved)